ART. 84.80/84.70

EASY PEELER VEGETABLE PEELER
Description
EASY PEELER. Vegetable peeler Made of polypropylene certified for food use. Super-sharp blade in stainless steel with guard. To peel potatoes, courgettes, eggplants, cucumbers, pumpkins, carrots, hard tomatoes, pears, apples, oranges, mangoes, lemons and not only… also to slice hard cheeses and chocolate in flakes. Keep out of the reach of children.
Use
To peel potatoes, apples, carrots, zucchini, cucumbers etc. It can also be used to make Parmisan or chocolate petals.
It is possible to turn the blade to allow the peeler use to left-handed people.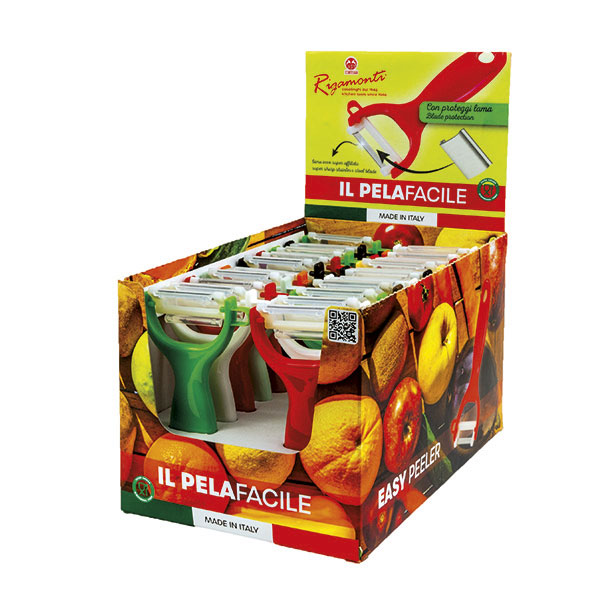 The color is purely indicative and might not coincide with the article real color.
Art.
Single pack size
Single net
weight
Master carton size
(L×P×H)
Master gross
weight
Ean Code
84.70
–
g 21
oz 0,74
cm 40×30×31
inch 15,7×11,8×12,2
kg 6
lb 13,3
200 pz
8001895084702
84.80
cm 16×25×14,5
inch 6,3×9,8×5,7
g 420
oz 14,8
cm 40×30×31
inch 15,7×11,8×12,2
kg 5
lb 11
120
(6 conf.×20)
8001895084801