Art. 121/122

FIRST IDEAL - FRENCH FRIES CUTTER
Description
Made of food safe non-toxic polystyrene. Two models art.121 is supplied with one hardened stainless steel grid 0.35×0.35 inch and art.122 is supplied with two interchangeable hardened stainless steel grids of 0.35×0.35 inch and 0.27×0.27 inch. Dishwasher-safe.
Use
Thanks to its high mechanical lever ratio you can cut with very slight effort potatoes, carrots, apples zucchini and other vegetables and fruit into French fry shape. Turning the French fry shaped vegetables and fruit parallel to the grid you can cut them another time and get cubic form vegetables and fruit.
You must consent to the use of cookies to view the video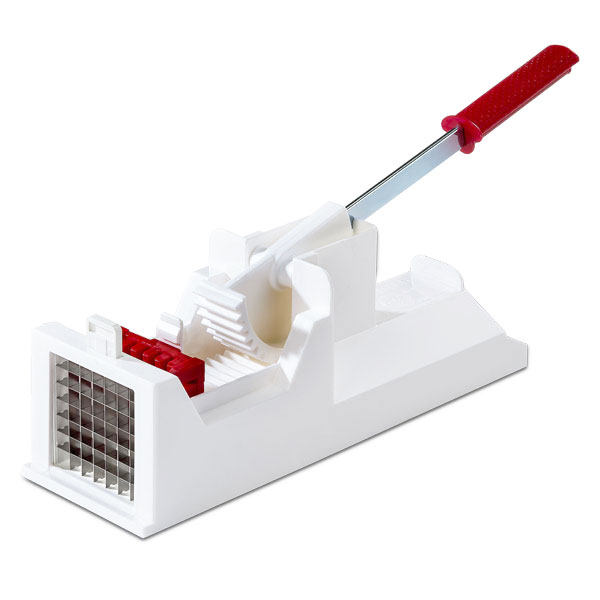 The color is purely indicative and might not coincide with the article real color.
Art.
Single box size (LxPxH)
Single box weight
Master carton size (LxPxH)
Master gross weight
Ean code
121
cm 32,5x12x10,5
inch 12.81×4.73×4.14
g 780
oz 27.51
cm 46x45x35
inch 18.11×17.71×13.77
kg 11
Lb 24.28
12
8001895001211
122
cm 32,5x12x10,5
inch 12.81×4.73×4.14
g 876
oz 30.90
cm 46x45x35
inch 18.11×17.71×13.77
kg 12
Lb 26.49
12
8001895001228