Art. 131/132/133

CUTTING BOARDS
Description
Made of food grade non-toxic polypropylene. Available in three different sizes. The medium and the largest cutting boards have been designed with a sidelong depression for liquids gathering.
Use
An essential cutting base for salami, vegetables, fruits, cheese, meat etc.
You must consent to the use of cookies to view the video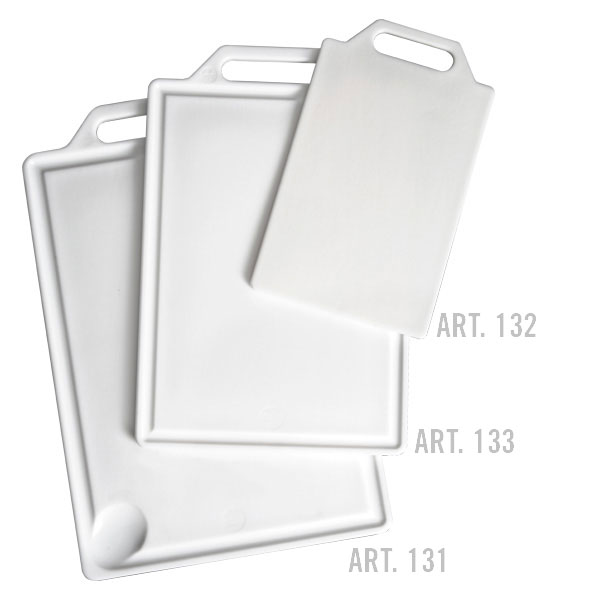 The color is purely indicative and might not coincide with the article real color.
Art.
Single pack size (LxPxH)
Single pack weight
Master carton size (LxPxH)
Master gross weight
Ean code
131
cm 26×39
inch 10.24×15.36
g 850
oz 29.98
cm 26x39x27
inch 10.23×15.36×10.62
kg 18,5
Lb 40.83
20
8001895001310
132
cm 15×25
inch 5.90×9.85
g 220
oz 7.76
cm 26x39x27
inch 10.23×15.36×10.62
kg 14
Lb 30.85
60
8001895001327
133
cm 22×33
inch 8.67×13
g 600
oz 21.16
cm 32x24x34
inch 12.59×9.44×13.38
kg 19
Lb 41.94
30
8001895001334